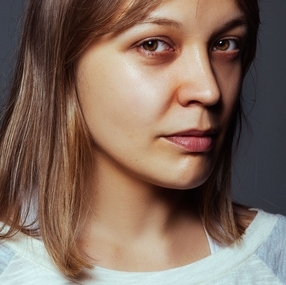 USA, Los Angeles
Born in:1986
Assistant since:2013
Driving licence:Car
Personal car:personal car available

Passport:no
Languages:English, Russian
Photo Assistant, Digital Tech
Toma Kostygina
People, Portrait, Architecture, Location Scout, Fashion, Beauty, Reportage, Prod. Assistant, Stillife, Food, Landscape, Transportation, International Exp.
Know How:
Phase One Certified November 206

Also worked with
H2, H4X, H5X
Mamiya RZ67, Hasselblad 500 series V mount;
Canons & Nikons.

Specializing in tethered capture. Own a fast MacBook Pro with licensed Capture One, Photoshop and Lightroom CC, 27" PA NEC monitor with some tether cords.

Related skills:
Photoshop re-touching/compositing (advanced), Lightroom (advanced), Capture One (fluent).

I worked with both packs
and moonlights, ProFotos (8a, B4),Dyno Lights (MP 400), Speedotron (2405cx), alien bees/einsteins, elinchrom ranger kit.

For personal assignments did a lot of production work.

Background:
Kids Art School (all kinds of painting, paper mache, applied arts especially for theater and stage, sculpture, linocut, sketching).

Kids dance school (classic ballet, aerobics).

Past hobbies - weightlifting, bodybuilding.

Reliable and responsible!
References as assistant / Career

April 2015 - current - Freelancer at Milk Studios, Digital department - preparing digital capture gear for rentals.

March 2015 - current - FD Photo Studio - General Manager - everything from maintenance to setting up lights for a client
www.fdphotostudio.com

December 2014 - January 2015 - Michel Comte - assistant http://www.michelcomte.org

Santa Monica College, photography department, completing the program spring 2015 (http://www2.smc.edu/photo/people.html), references - Ford Lowcock, Craig Mohr, Josh Sanseri.

August - October 2014 - Intern for David LaChapelle Studios in Los Angeles (http://www.lachapellestudio.com)

October 2014 - Hugh Kretchmer http://www.hughkretschmer.net
assisting, shooting behind the scenes, doing office work, on a needed basis.

Worked as a staff night club photographer for EOS Lounge in Santa Barbara, CA

Worked for DNA Imagery as a night life/event photographer (http://www.dnaimagery.com)

Was an event photographer for Downtown LA ArtWalk.



Portfolio
Quick search:Want to browse all photo assistants in a town at once? Save searching, just click!
Atlanta
,
Austin
,
Baltimore
,
Boston
,
Chicago
,
Columbus
,
Dallas
,
Denver
,
Detroit
,
Hawaii
,
Houston
,
Indianapolis
,
Las Vegas
,
Los Angeles
,
Memphis
,
Miami
,
Minneapolis
,
New Orleans
,
New York City
,
Oklahoma City
,
Orlando
,
Philadelphia
,
Phoenix
,
Portland
,
Puerto Rico
,
Sacramento
,
Salt Lake City
,
San Antonio
,
San Diego
,
San Francisco
,
San josé
,
Seattle
,
Washington