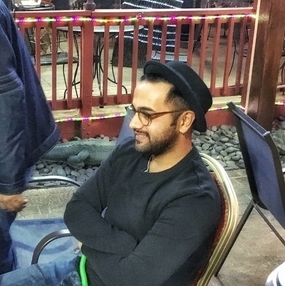 USA, New York City
Born in:1990
Assistant since:2016
Driving licence:Car
Personal car:personal car available

Passport:yes
Languages:English
Photo Assistant
Mohammed Merchant
People, Portrait, Fashion, Beauty
Know How:
I am familiar with all Canon and Nikon cameras.
I also shoot film 35mm so do have basic no hows of using a film camera, changing film stock, unwinding, etc
I have used and familiar with Profoto lights and packs, alienbees, a little bit of Broncolor packs and mono lights.
I know how to set up and break Briese Lights continuous and flash. Also, have knowledge and experience with setting up and testing Arri, Kino
Flo, Lowe DP, etc.

I would love to get more knowledge and experience in production and location scouting which enhances my knowledge and potential.
Im a hard working person and even though i dont have much experience, i give it my all to make sure the given task is complete.
I work at an art and fashion studio in EQ and completing the job on time, before time is something i do everyday.

References as assistant / Career

I have a Bachelors in Advertising and currently completing an online course called Mastered for Photographers which is based out of London.
I have interned at a Photo Studio called Studios LIC where i learned about EQ, customer service, a little bit of studio management, etc.
I have never worked as a permanent assistant but, assisted a few fashion and editorial photographers such as Hao Zeng, Hunter & Gatti, Sebastian Sabal Bruce, etc.
I have worked as a Lighting Tech/Assistant, Photo Assistant, Gaffer, etc
Portfolio
Quick search:Want to browse all photo assistants in a town at once? Save searching, just click!
Atlanta
,
Austin
,
Baltimore
,
Boston
,
Chicago
,
Columbus
,
Dallas
,
Denver
,
Detroit
,
Hawaii
,
Houston
,
Indianapolis
,
Las Vegas
,
Los Angeles
,
Memphis
,
Miami
,
Minneapolis
,
New Orleans
,
New York City
,
Oklahoma City
,
Orlando
,
Philadelphia
,
Phoenix
,
Portland
,
Puerto Rico
,
Sacramento
,
Salt Lake City
,
San Antonio
,
San Diego
,
San Francisco
,
San josé
,
Seattle
,
Washington