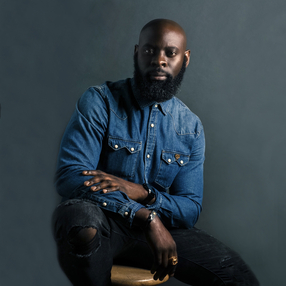 USA, Atlanta
Born in:1983
Assistant since:2014
Driving licence:Car
Personal car:personal car available

Passport:yes
Languages:English
Photo Assistant
Arthur Hylton
People, Portrait, Architecture, Location Scout, Fashion, Beauty, Prod. Assistant
Know How:
*Photo Assistant Who Is Available For Work During The COVID-19 Pandemic*
**Will Travel To: Atlanta, North Carolina & South Carolina For Work**

I am a Visual artist with 10 years of experience, specializing in videography, digital and film photography, fashion, portraits, and still-life photography. I am proficient in capturing high quality
images and organizing materials for photoshoots, while exhibiting professionalism at all times. A freelancer who still loves working with other photographers on interesting projects.

Gear:
* Main | Fuji X-T4 & Prime Lenses
* Backup | Canon 80D
* [2] Travel Flashpoint Speedlights
* Flashpoint Studio Strobe

Website | snipesstudios.com
IG | @snipes_studios
References as assistant / Career

*Go Studios Penthouse | Times Square, New York
Studio Manager - Present
• Book spaces needed by clients.
• Maintain inventory of In-House photographic equipment.
• Maintain and recommend upgrades to digital imaging equipment.
• Ensure that the equipment is in working order before and after use.

*Photoville [United Photo Industries] | Dumbo, Brooklyn N.Y.
Programing Intern/ Lead Photographer - Sept 2017 – Aug 2019
• In-House Photographer for all United Photo Industries events.
• Official photographer for the Photoville Re-purposed Shipping Container Festival.
• Prepare, review and analyze submission for upcoming galleries shows.
• Curate galleries, stage artwork and photographs for upcoming exhibitions.
• Produce high resolution still and video images of the Gallery's fine arts collection.

*Sports & Arts in Schools Foundation | Brooklyn, New York         
Fine Art Photography Teacher | PS/IS 178 St. Clair McKelway
• Organized, lead and promoted interest in the Visual Arts, including incorporation of Art History into lessons.
• Taught principles and techniques of photography, while establishing safety procedures to students in the activities.
• Evaluated the technical requirements of each project, selecting cameras, scanners, video cameras, proper accessories and supporting equipment for each assignment to produce final images that meet the school's standard of quality.
• Maintained and recommended upgrades to digital imaging equipment.
• Supervised and oversaw the daily operation of the photography studio and digital imaging equipment, including cleanup of classrooms at the end of day.
• Helped students observe, discuss, write about their art and find their "Visual Voice."

*Snipes Studios | New York
Owner/ Freelance Photographer
• Freelance image creator using photo and video capturing equipment for clients.
• Specialize in headshots, dramatic portraiture & abstract architecture
• Use image editing software to correct blemishes in photos, cropping photos, adjusting contrast, tone, or lighting using Adobe Media applications.
• Consultant to brands on themes for magazines, visual campaigns and photo shoots.
• Proficient in film, digital and black & white photography well as HD video recording.
• Captures and produces imagery with emphasis on photography that clearly conveys specific messages to targeted audiences and communicates the USTC mission and strategic priorities.

*Photo Assistant | New York, NY
Assistant Photographer for Who Wore That Magazine
-Assists lead photographers in capturing and processing photographs
-Managed work sites in terms of equipment set up and other logistics
-Food Stylist/ Photographer Assistant for the D'Agostino Marketplace
-Food Stylist/ Photographer Assistant for the Gourmet Garage Marketplace
-Food Stylist/ Photographer Assistant for the "Eataly" Marketplace
-Contracted Food Stylist/ Photographer Assistant for Amazon.com

* U.S. Navy | Patuxent River, MD
Public Relations Officer/ Military Squadron Liaison
-Military Squadron Digital Media Custodian who captured all military squadron events and award ceremonies for yearly military scrapbooks 
-Captured photos of military aircraft and mechanical support equipment
-Developed photos and created framed collages as gifts for V.I.P military members

*Photographic Skills
• Extensive experience of capturing images in the studio, on location, galleries, and outside and at off-site locations.
• Experience using Hasselblad, and similar brand medium format digital systems.
• Experience using 35mm digital capture systems and associated software capture programs.
• Experience using 35mm film capture systems and processing images in a darkroom.
• Evaluate the photographic characteristics of the source materials and selects corresponding films, filters, exposures, and papers based on their reproductive capabilities.
• Use image editing software to correct blemishes in photos, cropping photos, adjusting contrast, tone, or lighting using Adobe Media applications on during and after sessions.
• Excellent knowledge of flash photography equipment.
• Exceptional Knowledge of shooting in natural light.
• Excellent interpersonal skills and customer service skills.
• Plan photographic coverage of special projects, events, and activities to determine required equipment.
• Proficient in PC and Macintosh Operating Systems, Microsoft Office, Excel, Outlook, PowerPoint, Adobe Photoshop & Adobe Photoshop Lightroom.
• Produce photographic and videotape coverage of unique and various situations.
• Skilled at communicating with clients and advising them on poses and gestures that are visually pleasing.
•Knowledge of comprehensive still and video photographic principles and practices sufficient to plan and photograph subjects, events, and activities.
• Knowledge of a variety of specialized photographic equipment, techniques, and processes sufficient to complete assignments requiring high degrees of detail, critical timing, and critical focus.
• Knowledge of and skill in using computer hardware and software to generate high quality, precisely scaled still and video photographic images.


EDUCATION
Graduate of The New York Film Academy - One Year Photography Program.
Portfolio
Quick search:Want to browse all photo assistants in a town at once? Save searching, just click!
Atlanta
,
Austin
,
Baltimore
,
Boston
,
Chicago
,
Columbus
,
Dallas
,
Denver
,
Detroit
,
Hawaii
,
Houston
,
Indianapolis
,
Las Vegas
,
Los Angeles
,
Memphis
,
Miami
,
Minneapolis
,
New Orleans
,
New York City
,
Oklahoma City
,
Orlando
,
Philadelphia
,
Phoenix
,
Portland
,
Puerto Rico
,
Sacramento
,
Salt Lake City
,
San Antonio
,
San Diego
,
San Francisco
,
San josé
,
Seattle
,
Washington