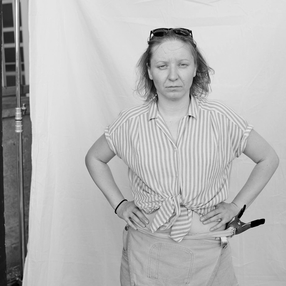 Switzerland, Lausanne
Born in:1989
Assistant since:2013
Driving licence:Car
Personal car:no personal car
Passport:yes
Languages:English, German
Telephone: +41 (0) 76 528 05 01
Photo Assistant, Digital Tech
Johanna Hullár
People, Portrait, Architecture, Location Scout, Fashion, Beauty, Stillife, Food
Know How:
Sehr gute Kenntnisse im Klein- , Mittel-, Großformat Analog und Digital

Canon EOS System
Nikon SLR System

Mamiya
Hasselblad
Linhof
Sinar

mit Phase One Back

Licht:
Broncolor
Elinchrom
Profoto
Briese
Hensel

Arri


Studio & On Location.

Video:
Canon c300, Panasonic, Sony Alpha Camcoders
Canon EOS HD Video

Developing:
11 Jahre Laborerfahrung SW
Liquid Emulsion, Großformat
Abzüge, Cyanotype, Polaroid
Digitaldruck + Vorbereitung

Capture One
Phocus
Adobe CC Photoshop, Lightroom, Bridge, Indesign, Illustrator(beg.) Premiere Pro, After Effects, Cinema4D(beg.), Final Cut, Color Davinci


Produktion:
Administrative & organisatorische Aufgaben in der Produktionsvorbereitung
Casting
Locationsuche
Equipment Rental
Vertragsabwicklung, Buchungen und Terminierung
Erstellung von Callsheets
Allgm. Coordinierung
Requisite
Catering


References as assistant / Career

2016-2018 Fotostudio annabelle Zürich, Assistentin, Fotografin


Freie Assistenz:
Peter Hönnemann (Hamburg/Paris/Berlin)
Joachim Baldauf(Berlin)
Géza Talabér (Budapest)
Sven Bänziger (Zürich)
Fanni Szilágyi Regisseurin - Set Assistenz(Budapest)
Lauretta Suter (Zürich)
Joan Minder
Daniel Valance
Micha Freutel
Dan Cermak

2018-2020 Master in Fotografie - ECAL Lausanne

2009-2014 Bachelor Abschluss Kommunikationsdesign HTW Berlin

2012 How to create Originals - Fashion Kurs von Joachim Baldauf, Ausstellung, Berlin

2012 Praktikum bei Peter Hönnemann Hamburg/Paris


2008 Sirius Scolarship, Archaic Photography, Vraa, Denmark

2007-2009 Studium Bachelor Fotografie Universität Kaposvar, Ungarn

2003-2007 Gymnasium - Fachschule für Angewandte und Bildende Kunst, Fotografie, Budapest


Ich bin flexibel, kommunikativ, sicher im Umgang mit Kunden und Models. Bin motiviert, zuverlässig und reisefreudig!
Fotostudio annabelle, Employed Photo Assistant, more than 1 year
Friday Magazine, Photo Assistant, more than 5 jobs
Joan Minder, Employed Photo Assistant, more than 1 year
Daniel Valance, Employed Photo Assistant, more than 1 year
Sven Bänziger, Digital Photo Tech, 1-5 jobs

Portfolio
Quick search:Want to browse all photo assistants in a town at once? Save searching, just click!
Atlanta
,
Austin
,
Baltimore
,
Boston
,
Chicago
,
Columbus
,
Dallas
,
Denver
,
Detroit
,
Hawaii
,
Houston
,
Indianapolis
,
Las Vegas
,
Los Angeles
,
Memphis
,
Miami
,
Minneapolis
,
New Orleans
,
New York City
,
Oklahoma City
,
Orlando
,
Philadelphia
,
Phoenix
,
Portland
,
Puerto Rico
,
Sacramento
,
Salt Lake City
,
San Antonio
,
San Diego
,
San Francisco
,
San josé
,
Seattle
,
Washington