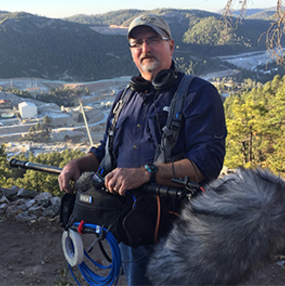 USA, Houston
Born in:1958
Assistant since:1984
Driving licence:Car
Personal car:personal car available

Passport:yes
Languages:English
Photo Assistant
Michael Klein
People, Portrait, Architecture, Location Scout, Fashion, Beauty, Reportage, Prod. Assistant, Stillife, Food, Landscape, Transportation, International Exp.
Know How:
My photo and video experience runs the gamut from the days of film to digital, location, studio, executive portraits, celebrities, editorial, food, fashion, architecture, corporate, industrial, offshore and medical. I also have my Rig Pass, HUET & TWIC certifications for working around oil & gas projects, plus TSA Pre Check and passport for easy traveling.

Have worked with just about every camera, strobe, light modifier and grip gear ever invented.

In addition to photo assisting and grip work I also record audio. My audio kit is a great package for doing interviews and documentaries and I'm constantly adding on. Currently it includes:
Zoom F8, 8 channel mixer/recorder, Zoom
F Controller and a Zoom H6 mixer/recorder as backup.
12' K-tek carbon fiber boom pole with internal cable
Rycote Cyclone blimp with dead wombat for the Sennheiser MKH416, (This is one of the world's best systems for handling wind.)
Sennheiser MKH 416 outdoor shotgun mic with softie
Sennheiser MKH 50 indoor boom mic with softie
3 Sennheiser ew 100 G3 wireless omni lav kits,
2 Sanken COS 11D wireless omni lavs, each with a Sennheiser MZA 900 P - In-Line Preamplifier to convert the COS 11D's into wired lavs when necessary.
1 SKP 100 Plug-on transmitter with a dynamic Audio Technica AT8004L mic.
2 Sony ECM-44B wired omni lavs
Dumb Slate
Ikan 95wh battery system


References as assistant / Career

I've been fortunate to work with a lot of photographers and a few videographers of various disciplines and caliber. Below is just a brief list of who I have worked with:
Photography: Gary Barchfeld, Curtis Bean, Robert Beck, Bruce Bennett, Steve Brady, Barry Champagne, Ken Childress, Barry Fantich, Thierry des Fontaines, Dom Furore, Justin Gollmer, Bob Gomel, Mark Green, Maarten de Groot, Mitchell Hasseth, Michael Hart, Bob Houser, Rachel Hudgins, Jim Hughes, Brent Humphreys, Jill Hunter, Walter Iooss, Atiba Jefferson, Scott Jones, Eric Kayne, Drew Kelly, Scott Kohn, James LaCombe, Paul Ladd, George Lange, Sandy King Lankford, Christian Lantry, Annie Leibovitz, John Lewis, Ben Liebenberg, Jason Lindsey, Nathan Lindstrom, Michael LoBiondo, Hal Lott, Mary Ellen Mark, Steve Marsel, Chas McGrath, Gideon Mendel, Shaun Mendiola, Howard Menken, Eric Meola, Ricardo Merendoni, August Miller, Jack Mitchell, Alan Montgomery, Marc Morrison, Richard Phibbs, Sasha Preziosa, Mauricio Ramirez, Janice Rubin, Warwick Saint, Chris Salvo, Tom Sanders, Ron Scott, Robert Seale, Chris Shinn, Jim Sims, Michael Scott Sloser, Ralph Smith, Mary Jane Starke, Paul Swen, Tim Tadder, Bob Thomason, Ellis Vener and Bob Werre.

Video: Gotham Image Works, Image in Action, McNee Productions, MDI Video, Nadji Productions, NFL Films, One More Time Productions, Plaid Pony Productions, Ricardo Merendoni, Video Perspective and Jake Wilganowski.

Audio: Sandy Buller, ESPN, Ground Media. Bob Houser, Nathan Lindstrom, Ricardo Merendoni. No Frames LLC, Plaid Pony Productions, Marc Pretorius, Yesenia Rodriguez, Robert Seale, VideoEnvy, 33 Visual, ZapBoomBang Studios

If you need audio, I have an 8 channel field mixer/recorder package thats perfect for interviews and small crew documentaries.

In addition to my skills and experience I bring a great attitude and a robust grip kit customized for each project. I can also scout locations, reserve equipment, studios, grip trucks and crew.

Member of ASMP.
Portfolio
Quick search:Want to browse all photo assistants in a town at once? Save searching, just click!
Atlanta
,
Austin
,
Baltimore
,
Boston
,
Chicago
,
Columbus
,
Dallas
,
Denver
,
Detroit
,
Hawaii
,
Houston
,
Indianapolis
,
Las Vegas
,
Los Angeles
,
Memphis
,
Miami
,
Minneapolis
,
New Orleans
,
New York City
,
Oklahoma City
,
Orlando
,
Philadelphia
,
Phoenix
,
Portland
,
Puerto Rico
,
Sacramento
,
Salt Lake City
,
San Antonio
,
San Diego
,
San Francisco
,
San josé
,
Seattle
,
Washington