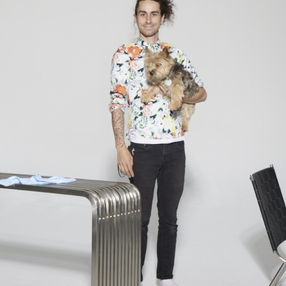 USA, New York City
Born in:1987
Assistant since:2011
Driving licence:Car
Personal car:no personal car
Passport:yes
Languages:English
Photo Assistant, Digital Tech
Jonathan Pivovar
People, Portrait, Architecture, Fashion, Beauty, Prod. Assistant, Stillife, Food, Landscape, Transportation
Know How:
Experienced in Large/Medium and 35mm format, developing, chemical mixing and printing.

Fluent in Photoshop, Capture One, Phase One, Phocus, Bridge and well versed in lightroom.

Understands and works with both Mac and PC; Nikon, Canon, and Hasselblad.

Calibrates monitors, printers, and
cameras.

Lighting and grip qualifications:

Works with all forms of stobes.

hot lights? fluent in most.

Medium level carpentry. I often fabricate for galleries, museums, and artists.

I work smart.
I'm funny, professional, and personable.
You should hire me.
References as assistant / Career

Degree in BFA/Commercial Photography from Columbia College Chicago.

Hi!

I work regularly in, and on, photo/video productions where I am the assistant to the photographer, primary/second-shooter, Digital tech, and lighting technician.
As well as the overall technical assistant to various freelance photographers in editorial, fashion and architecture, in and around the City of Chicago and NYC.

I have a drivers
license-- motorcycle too!
I can drive stick.
I don't smoke.
I have a great taste in music and beer and jokes.
I don't own a vehicle.
I have a valid Passport till 2025.
I will work whenever you need me to as long as I'm not already booked or have a date.
I assist part-time, the other half is working as a preparator.
Portfolio
Quick search:Want to browse all photo assistants in a town at once? Save searching, just click!
Atlanta
,
Austin
,
Baltimore
,
Boston
,
Chicago
,
Columbus
,
Dallas
,
Denver
,
Detroit
,
Hawaii
,
Houston
,
Indianapolis
,
Las Vegas
,
Los Angeles
,
Memphis
,
Miami
,
Minneapolis
,
New Orleans
,
New York City
,
Oklahoma City
,
Orlando
,
Philadelphia
,
Phoenix
,
Portland
,
Puerto Rico
,
Sacramento
,
Salt Lake City
,
San Antonio
,
San Diego
,
San Francisco
,
San josé
,
Seattle
,
Washington