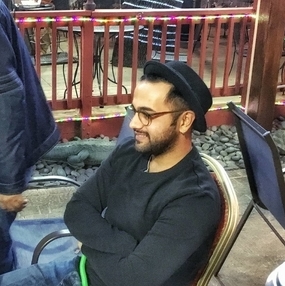 USA, New York City
Born in:1990
Assistant since:2016
Driving licence:Car
Personal car:personal car available

Passport:yes
Languages:English
Photo Assistant, Digital Tech
Mohammed Merchant
People, Portrait, Fashion, Beauty, Stillife, Food
Know How:
I am familiar with all Canon and Nikon cameras.
I also shoot film 35mm so do have basic no hows of using a film camera, changing film stock, unwinding, etc
I have used and familiar with Profoto lights and packs, alienbees, a little bit of Broncolor packs and mono lights.
I know how to set up and break Briese Lights continuous and flash. Also, have knowledge and experience with setting up and testing Arri, Kino
Flo, Lowe DP, etc.

I would love to get more knowledge and experience in production and location scouting which enhances my knowledge and potential.
Im a hard working person and even though i dont have much experience, i give it my all to make sure the given task is complete.
I work at an art and fashion studio in EQ and completing the job on time, before time is something i do everyday.

References as assistant / Career

I currently work at Pier 59 studios in NYC since September 2016 in the EQ department where we build, break and reset studios, client services and setting up and breaking down lights such as Briese, Arri, Broncolor, etc.
I have a Bachelors in Advertising and currently completing an online course called Mastered for Photographers which is based out of London.
I have interned at a Photo Studio called Studios LIC where i learned about EQ, customer service, a little bit of studio management, etc.
I have never worked as a permanent assistant but, assisted a few fashion and editorial photographers such as Hao Zeng, Hunter & Gatti, Sebastian Sabal Bruce, Marco Glaviano, Casey Showwalter(DOP), etc.
I have worked as a Lighting Tech/Assistant, Photo Assistant, Gaffer, etc.
Portfolio
Quick search:Want to browse all photo assistants in a town at once? Save searching, just click!
Atlanta
,
Austin
,
Baltimore
,
Boston
,
Chicago
,
Columbus
,
Dallas
,
Denver
,
Detroit
,
Hawaii
,
Houston
,
Indianapolis
,
Las Vegas
,
Los Angeles
,
Memphis
,
Miami
,
Minneapolis
,
New Orleans
,
New York City
,
Oklahoma City
,
Orlando
,
Philadelphia
,
Phoenix
,
Portland
,
Puerto Rico
,
Sacramento
,
Salt Lake City
,
San Antonio
,
San Diego
,
San Francisco
,
San josé
,
Seattle
,
Washington