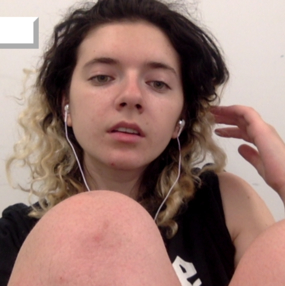 USA, New York City
Born in:1997
Assistant since:2015
Driving licence:no driving licence
Personal car:no personal car
Passport:yes
Languages:English
Photo Assistant, Digital Tech
Helen Galioto
People, Portrait, Architecture, Fashion, Beauty, Prod. Assistant, Stillife, Food, Landscape
Know How:
I am a third-year Photography major at Pratt Institute, with a specific concentration in digital photography. I have extensive experience in shooting and lighting techniques, as well with using Adobe editing software for color correction, retouching, and layout for print and web.

My personal body of work covers a wide range of genre - street, portraiture, still-life, architecture, fashion and so on. I'm interested in using my photos to explore their own condition and final context as a flat image. I frequently experiment with nontraditional sizes and resolutions in preparing my images or print, and use the capabilities and aesthetics of the internet to guide their online presentation.

Professionally, I have worked as an
assistant to photographers for studio-based and on-location assignments, including the fast-paced environment of New York Fashion Week (which I have also been regularly photographing in my own personal body of work for the past four seasons). Working as an assistant gave me a familiarity with the technical and timely demands of a professional studio environment that frequently had to be adapted to the street, and has made me especially comfortable with learning a post-production workflow tailored to the aesthetics of my boss. I have also worked in gallery settings, where I was responsible for photographing exhibitions, editing them for online and print publication, and formatting exhibition catalogs and artist books.
References as assistant / Career

Pratt Institute - Photography BFA (Media Studies Minor)

Trestle Gallery (3 mos) -
Photographing exhibitions and opening events for official online use
Regularly updating gallery website with new and archival material

STILL Magazine (3 mos)-
Researching shops, book fairs, distributors, and event venues for the circulation and promotion of the magazine in New York

Babycastles (2 yrs) -
Photographing various events
Managing social media and email newsletter

The Rubelle and Norman Schafler Gallery (4 mos) -
Photographing opening events for online use

Real Fine Arts (2 mos) -
Organizing and formatting gallery and artists' press and materials
Photographing select art pieces by gallery's artists

Mary Sky Gallery (3 mos) -
Assisting with gallery installation and wrapping artwork for storage and transportation
Photographing art pieces and designing show catalogs with InDesign

Brooklyn Arts Council (3 mos) -
Photographing the activities of the Arts in Education programs
Organizing photographs, videos, and other documentation on organization hard drive
Collecting photo/video release forms
Editing photographs and videos for print and website




Portfolio
Quick search:Want to browse all photo assistants in a town at once? Save searching, just click!
Atlanta
,
Austin
,
Baltimore
,
Boston
,
Chicago
,
Columbus
,
Dallas
,
Denver
,
Detroit
,
Hawaii
,
Houston
,
Indianapolis
,
Las Vegas
,
Los Angeles
,
Memphis
,
Miami
,
Minneapolis
,
New Orleans
,
New York City
,
Oklahoma City
,
Orlando
,
Philadelphia
,
Phoenix
,
Portland
,
Puerto Rico
,
Sacramento
,
Salt Lake City
,
San Antonio
,
San Diego
,
San Francisco
,
San josé
,
Seattle
,
Washington