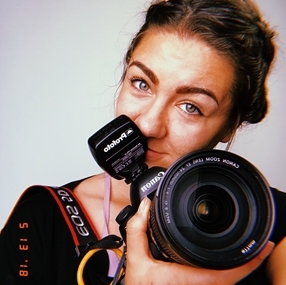 USA, New York City
Born in:1996
Assistant since:2014
Driving licence:Car
Personal car:no personal car
Passport:yes
Languages:English
Photo Assistant, Digital Tech
Molly Zacher
People, Portrait, Fashion, Beauty, Stillife, Food, International Exp.
Know How:
Software:
Capture One, Adobe (Photoshop, Lightroom, Premiere, Illustrator, After Effects, InDesign, Muse), Microsoft Office (Word, Power Point, Excel)
Equipment:
Digital: Canon 5D Mark iii, Canon Lenses (50mm 1.4, 24mm 2.8, Telephoto, Macro), Hasselblad H6D, Phase One XF 100MP
Film: Canon
35mm AE-1, Canham 4x5 Field Camera Darkroom Development Chemical & Processes, Hasselblad Flextight X5 Scanner
Studio: Backdrops, Hot Lights, ProPhoto Strobe/Speed Lights, Light Modifiers (Soft Boxes, Reflectors, Flags, Beauty Dishes, Gridspots, etc.), Pocket Wizard/Remote Flash Trigger
References as assistant / Career

Savannah College of Art and Design (SCAD), Savannah, GA
BFA Photography, Minor Business Management and Entrepreneurship

Freelance Photography: June 2014–Present
Lifestyle/Portraiture/Product Photographer
Responsible for planning, organizing, shooting, editing/
retouching photos for various photoshoots. I was solely responsible for all aspects of the photographic process to highlight an individual experience.

Collaborative Campaigns: January 2015–Present
Photographer
Worked alongside models, stylists, creative directors,
and designers to execute photoshoots that developed
a brand or communicated a concept. Responsible for shooting, curating & retouching final images, and delivering to partners for use in campaigns or promotional pieces.

Victoria Stevens | New York, NY: December 2017
Photo Assistant
Worked on set for editorials in collaboration with WWD magazine, assisting Victoria Stevens with celebrity
photography: set up backdrops/lights/modifiers, assisted with test shots, made adjustments during shoot, and
executed the tear
down of set.

Charleston Magazine | Charleston, SC: June–September 2017
Photographer, Intern
Assisted in the production of five publications (Charleston Magazine, Charleston Weddings, Grand Strand, WNC, House Calls). Worked in studio and on-site photoshoots to produce product and lifestyle images to be published in each magazine. Assisted post-production: editing, converting and placing images in layouts.

Edible Charleston Magazine | Charleston, SC: July–September 2017
Photographer, Intern
Assisted staff photographer (Shell Royster) at photoshoots, including a variety of drink and food still lives with natural and artificial lighting. Produced content for social media (Instagram, Twitter, Facebook). Shot a drink feature for the September issue.

Missy Donovan Photography | Chicago, IL: October 2013–May 2015
Photographer, Intern
Assisted with shoots (client-based: weddings, families, and fashion) and analyzed entrepreneurial business ventures
Portfolio
Quick search:Want to browse all photo assistants in a town at once? Save searching, just click!
Atlanta
,
Austin
,
Baltimore
,
Boston
,
Chicago
,
Columbus
,
Dallas
,
Denver
,
Detroit
,
Hawaii
,
Houston
,
Indianapolis
,
Las Vegas
,
Los Angeles
,
Memphis
,
Miami
,
Minneapolis
,
New Orleans
,
New York City
,
Oklahoma City
,
Orlando
,
Philadelphia
,
Phoenix
,
Portland
,
Puerto Rico
,
Sacramento
,
Salt Lake City
,
San Antonio
,
San Diego
,
San Francisco
,
San josé
,
Seattle
,
Washington