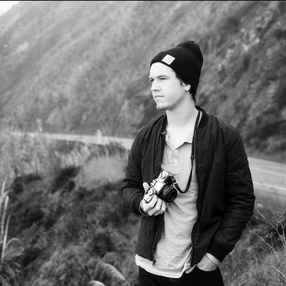 USA, Los Angeles
Born in:1991
Assistant since:2011
Driving licence:Car
Personal car:personal car available

Passport:yes
Languages:English
Photo Assistant
Josh Bowman
People, Portrait, Architecture, Location Scout, Fashion, Beauty, Prod. Assistant, Stillife, Food, Landscape
Know How:
Fluent in:
All things Canon
Mac OS
Strobe Lighting (Profoto, Norman, Godox, Calumet, Quantum, JTL)
Light
Modifiers
Continuous Lighting (Arri, Lowel, Mole-Richardson)
Photoshop
Bridge
Lightroom
Microsoft Office
35mm Manuel Film Photography

Familiar With:
Nikon
Photo Mechanic
Capture One
Illustrator
Acrobat
References as assistant / Career

Hello!

I've spent most of the last 8 years lighting and photographing buildings of all shapes and sizes with my friend and mentor Anthony Gomez, a seasoned Orange County based architectural photographer. In that time, I went from a photographic hobbyist to someone borderline obsessed with the technical intricacies of lighting and photography. Though most of my time has been spent shooting architecture, my wife and I shoot weddings, events, and portraits together, and I've assisted on countless fashion, food, and product shoots over the years.

Through shooting architecture, I've learned the importance of understanding light and it's modification; the difference between good and bad composition can be just a matter of a few degrees; the importance of being able to shift focus from the image in its entirety to the minute details that affect the success of the image as a whole and then back again to the big picture to ensure efficient time management.

Through studio photography (fashion, products, food) I've learned how to give well articulated direction to subjects; how to place individual pinto beans on a burrito (using tweezers) in such a way to ensure the maximum amount of perceived deliciousness; and how to find your role in a large crew.

Through weddings and events, I've learned not only how to stay calm and focused in a high stress environment but that being a calm and fun presence can help your subjects feel more at ease being photographed. I've learned how to make great images without the comforts of a studio as well as the importance of knowing and maintaining your equipment to ensure a moment is not missed due to technical difficulty.


I've been doing this for the better part of a decade because I sincerely enjoy the work. Working with different photographers helps me to stay sharp and to never stop learning new techniques. However, the core thing that keeps me coming back is the collaboration with other creative people and achieving an end result we can all look back on and be proud of.

Thank you for your consideration!
Anthony Gomez, Employed Photo Assistant, more than 1 year
Callaway Gable, Photo Assistant, 1-5 jobs
Ron Derhacopian, Photo Assistant, 1-5 jobs
John Watkins, Photo Assistant, 1-5 jobs
Carl Carpentier, Photo Assistant, 1-5 jobs

Portfolio
Quick search:Want to browse all photo assistants in a town at once? Save searching, just click!
Atlanta
,
Austin
,
Baltimore
,
Boston
,
Chicago
,
Columbus
,
Dallas
,
Denver
,
Detroit
,
Hawaii
,
Houston
,
Indianapolis
,
Las Vegas
,
Los Angeles
,
Memphis
,
Miami
,
Minneapolis
,
New Orleans
,
New York City
,
Oklahoma City
,
Orlando
,
Philadelphia
,
Phoenix
,
Portland
,
Puerto Rico
,
Sacramento
,
Salt Lake City
,
San Antonio
,
San Diego
,
San Francisco
,
San josé
,
Seattle
,
Washington