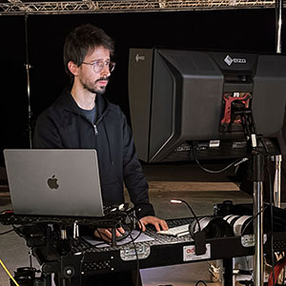 Spain, Madrid
Born in:1985
Assistant since:2014
Driving licence:no driving licence
Personal car:no personal car
Passport:yes
Languages:English, Spanish
Digital Tech
Javier Navarrete
People, Portrait, Architecture, Location Scout, Fashion, Beauty, Stillife, Food, International Exp.
Know How:
Digital tech & colorist based between Madrid and Barcelona.

Capture One Pro expert & trainer:

- With FOTO RUANO: Ysabel Mora, White Retouch, Sociedad Textil Lonia (CH Carolina Herrera, Purificación García), El Corte Inglés
- De Prati (Guayaquil, Ecuador): Building a new photography
& digital workflow and Capture One Pro consulting. (Since early 2022).
- Nebrija University (Madrid): x2 Capture One Pro masterclasses.
- Workshop Experience photography school (Madrid): Capture One Pro teacher between 2019 and 2021.
- UNIR (online): x1 Capture One Pro masterclass.

References as assistant / Career

1) Since 2020, digitech for photographers:

Ale Lanoix, Tomek Olszowski, Salva Musté, Mario Martín, Jorge Monge, Cayetano González, Sergio Borondo, Manu Mart, Félix Garay, Germán Saiz, Gosia Turczynska, Silvia Gil Roldán, Toni Sorvent.


2) From 2014 to 2020, light tech or studio assistant with photographers:

INTERNATIONAL - Adam Pretty, Rui Faria, Iza Grzybowska, Pawel Fabjanski, Marcin Kempski, Piotr Stoklosa, Gosia Turczynska, Mateusz Stankiewicz, Filip Zolynski, Kuba Dabrowski, Daniel Jaroszek, Tomek Olszowski.

SPAIN - Fernando Gómez, Chesco López, Ernesto Artillo, Rocío Ramos, Nico Bustos, Borja De La Lama, Laura Ouch, Enzo Rimondino, Vicente Merino, Brian Hallet, Jesús Cordero, Jesús Leonardo, Laura Ubago.
Manu Mart, Digital Photo Tech, more than 1 year
Jorge Monge, Digital Photo Tech, more than 1 year
Germán Saiz, Digital Photo Tech, 1-5 jobs
Gosia Turczynska, Digital Photo Tech, 1-5 jobs
Tomek Olszowski, Digital Photo Tech, 1-5 jobs
Cayetano González, Digital Photo Tech, 1-5 jobs

Portfolio
Quick search:Want to browse all photo assistants in a town at once? Save searching, just click!
Atlanta
,
Austin
,
Baltimore
,
Boston
,
Chicago
,
Columbus
,
Dallas
,
Denver
,
Detroit
,
Hawaii
,
Houston
,
Indianapolis
,
Las Vegas
,
Los Angeles
,
Memphis
,
Miami
,
Minneapolis
,
New Orleans
,
New York City
,
Oklahoma City
,
Orlando
,
Philadelphia
,
Phoenix
,
Portland
,
Puerto Rico
,
Sacramento
,
Salt Lake City
,
San Antonio
,
San Diego
,
San Francisco
,
San josé
,
Seattle
,
Washington