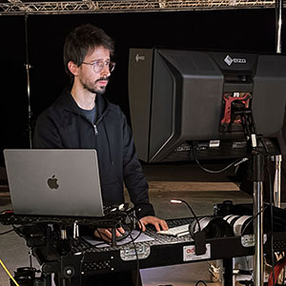 Spain, Madrid
Born in:1985
Assistant since:2014
Driving licence:no driving licence
Personal car:no personal car
Passport:yes
Languages:English, Spanish
Digital Tech
Javier Navarrete
People, Portrait, Architecture, Fashion, Beauty, Stillife, Food, International Exp.
Know How:
Digital tech & raw colorist based between Madrid and Barcelona.

Capture One Pro 22 expert & trainer:

- El Corte Inglés: Developing new ecommerce digital workflow in their photo studios (Madrid). Collab with FOTO RUANO PRO (Spain).
- El Corte Inglés: x2 Capture One Pro 22 workshops (Since early 2022). Collab with FOTO RUANO PRO (Spain).
- De Prati (Guayaquil, Ecuador): Building a new photography & digital workflow and Capture One Pro consulting. (Since
early 2022).
- Nebrija University (Madrid): x2 Capture One Pro masterclasses.
- Workshop Experience photography school (Madrid): Capture One Pro teacher between 2019 and 2021.
- UNIR (online): x1 Capture One Pro masterclass.


GEAR:
- Macbook Pro M1 Pro 14"
- iPad Air 5th
- Area51 & TetherTools cables + gadgets
- Capture One Live
- iWorkCase + tripod + roller
- x2 Hyperjuice USB-C
- x1 Anker Series 5
- SanDisk SSDs
- Colorchecker Passport Photo 2


* Mac OS user since 2006

References as assistant / Career

1) Photographers I have worked with as digital tech since 2020:
Cayetano González (Spain), Toni Sorvent (Spain), Gosia Turczynksa (Poland), Germán Saiz (Spain), Manu Mart (Spain), Jorge Monge (Spain).


2) Photographers I've worked with as photo assistant since 2014:

INTERNATIONAL - Adam Pretty, Rui Faria, Iza Grzybowska, Pawel Fabjanski, Marcin Kempski, Piotr Stoklosa, Gosia Turczynska, Mateusz Stankiewicz, Filip Zolynski, Kuba Dabrowski, Daniel Jaroszek, Tomek Olszowski.

SPAIN - Silvia Gil Roldán, Fernando Gómez, Chesco López, Ernesto Artillo, Rocío Ramos, Nico Bustos, Borja De La Lama, Laura Ouch, Enzo Rimondino, Vicente Merino, Brian Hallet, Jesús Cordero, Jesús Leonardo, Laurence de Rien, Laura Ubago, Javier Aranburu.

3) Some productions I've joined:

Conforama SS23, Conforama FW22, El Corte Inglés Decora FW22, Givenchy Beauty, Gocco, Ecco Shoes Denmark, Coca Cola Spain, Pedro del Hierro, Delpozo, Warner Music Spain, Harper's Bazaar Spain, Sprinter, Fifty, Adidas Group with Marcelo and Gareth Bale (Real Madrid), Johnnie Walker, Samsung, Galénic Spain, L'Officiel Hommes Spain, Blessus, Cartier, Smyk, Klif, Laura Guidi, Fifty, Moschino, Carlo Ancelotti (Real Madrid), Mercedes-Benz, Nike Poland, Nike Spain, Elle Spain, Harper's Bazaar Poland, Pani Magazine, Oxxo Wedding, Grazia Magazine Poland, Manfredi Equestrian, In Style Poland, Twój Styl, Elle Turkey, Glamour Poland, Ling Magazine, Samos Fashion Group, ¡Hola! and many more.

4) Studios:

- Spain: Camera Studio, Espacio Harley, Espacio Nueva Carolina, Daylight Studios, Master Pro Studio, West Park Studios, Q17 Studios, Estudios Barajas, Plató Cenital.

- International: Allard Studios (Amsterdam), Pin Up Studio (Warsaw), Studio Tecza (Warsaw), Studio 65 (Warsaw).
Manu Mart, Digital Photo Tech, more than 1 year
Jorge Monge, Digital Photo Tech, more than 5 jobs
Germán Saiz, Digital Photo Tech, 1-5 jobs
Cayetano González, Digital Photo Tech, 1-5 jobs
Toni Sorvent, Digital Photo Tech, 1-5 jobs

Portfolio
Quick search:Want to browse all photo assistants in a town at once? Save searching, just click!
Atlanta
,
Austin
,
Baltimore
,
Boston
,
Chicago
,
Columbus
,
Dallas
,
Denver
,
Detroit
,
Hawaii
,
Houston
,
Indianapolis
,
Las Vegas
,
Los Angeles
,
Memphis
,
Miami
,
Minneapolis
,
New Orleans
,
New York City
,
Oklahoma City
,
Orlando
,
Philadelphia
,
Phoenix
,
Portland
,
Puerto Rico
,
Sacramento
,
Salt Lake City
,
San Antonio
,
San Diego
,
San Francisco
,
San josé
,
Seattle
,
Washington