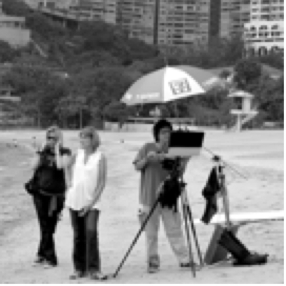 USA, Los Angeles
Born in:1982
Assistant since:2006
Driving licence:Car
Personal car:personal car available

Passport:yes
Languages:English
Photo Assistant, Digital Tech
David - ladigitaltech
People, Portrait, Architecture, Location Scout, Fashion, Beauty, Reportage, Prod. Assistant, Stillife, Food, Landscape, Transportation, International Exp.
Know How:
Hello,

I work in LA and the NYC area, I have experience in studio and outdoor using natural lighting. I know 99% of all lighting equipment and most cameras. I work very hard, and am not a complainer. If there is a problem I try to resolve it or come up with a plan b. I'm friendly, not pretentious, and nothing is beneath me from taking the trash to getting dirty or wet. I have my passport and am ready to go.

I'm a lifer I love being on set, I've been freelance my whole life.

I'm available to work as an DIT, 1st, 2nd, or Key Set PA/2nd2nd-AD. I have experience working in a production office, handling crew hires, insurance, rental, paperwork, permits, and producing shoots. I can lead or be led, I don't have an attitude, I'm old school....

I'm used to working hard for long hours, and prepare for everything just in case.

Tethering: I use Capture One, Phocus, and Lightroom. I can correct and process approximately 30gb-50gb a day 1-4k images.

I have card readers for every camera, 10 meters of tethering cables for most cameras, backup for almost everything I own except the monitor in NYC (I take the train in).

I know how to light scenes, in the studio and use natural
light and bounce outdoors. I've worked on fashion catalogs all day with no strobes and had very consistent light over a 12 hour day.

I've worked in freezing cold to a 127 degree desert shoots.
I want to work and I only know how to work hard. I don't mess around with my phone or social media, I do whatever is necessary to keep the shoot going and have the clients smiling. I can take orders and give orders, it doesn't matter to me. If you need someone who is reliable and works from the moment they arrive, please consider me.

Thanks, David

Ps in LA I'm able to work anywhere that's driving distance and in the east coast I'm able to work in NYC, Boston, or Ct.

Text 310 540 7859 or call me or email me... info@ladigitaltech.com

Jobs in 2022 I also work with Architectural photographers, catalog, e-commerce, and look books. I'm putting big names here but I work on small jobs, run and gun, events, basically any job you need help... I have experience in all types of work, and I want to help you....

KIA
Kindthreads
Apple Beats
Vogue India
Yves st. Lauren
Chanel
LuLu Lemon
Reebok
Nike
Robinhood
FDNY for the NY Times
Yale University
UCLA

Musicians:
Lil Nas X
Jennifer Lopez
Beyonce
Giveon
Saweetie
Doja Cat

Athletes:
Shaq
Kawai Leonard
LeBron James


Productions:
Amazon Bosch Legacy
Amazon Expats starring Nicole Kidman
NetFlix
Vice
LoneStar 911
Promised Land ABC
References as assistant / Career

I've worked on projects in 8 countries, including Jamaica, New Zealand, Russia, Korea, Hong Kong, Canada, and the UK.

I have worked in virtually all 50 states, in all kinds of weather. I've worked with celebrities, sports stars, and heads of state.

I also work on small shoots and high end weddings and Bar Mitzvahs. I am experienced in Tradeshow, and Corporate events. I can be a 2nd shooter as well if the need is there.

If you need someone with experience and works really hard please contact me.

I will always be positive on set and make the day better I guarantee this money back no questions asked.
, Digital Photo Tech, more than 1 year
, Digital Photo Tech, more than 5 jobs
, Digital Photo Tech, more than 5 jobs
Photographer, Digital Photo Tech, 1-5 jobs
Photographer, Photo Assistant, 1-5 jobs

Portfolio
Quick search:Want to browse all photo assistants in a town at once? Save searching, just click!
Atlanta
,
Austin
,
Baltimore
,
Boston
,
Chicago
,
Columbus
,
Dallas
,
Denver
,
Detroit
,
Hawaii
,
Houston
,
Indianapolis
,
Las Vegas
,
Los Angeles
,
Memphis
,
Miami
,
Minneapolis
,
New Orleans
,
New York City
,
Oklahoma City
,
Orlando
,
Philadelphia
,
Phoenix
,
Portland
,
Puerto Rico
,
Sacramento
,
Salt Lake City
,
San Antonio
,
San Diego
,
San Francisco
,
San josé
,
Seattle
,
Washington