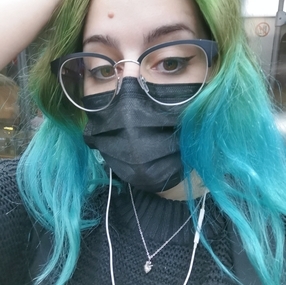 Spain, Barcelona
Born in:1991
Assistant since:2014
Driving licence:no driving licence
Personal car:no personal car
Passport:yes
Languages:English, Spanish
Photo Assistant, Digital Tech
Sara Gomez
People, Portrait, Fashion, Beauty, Prod. Assistant, Stillife, Food, International Exp.
Know How:
My experience goes not only from being freelancer, but from having worked as Studio Manager & Studio Assistant for more than year and half in a photographic studio located in South London.

Cameras I'm familiar with:
- Full Frame DSLR (Sony, Canon, Nikon)
- Bridge and Devil cameras (sony a7s I, II)
- Cameras for film (TV cameras, Sony, Panasonic)
- Film cameras (analogic): 35mm, medium format, large format, 8mm, 16mm.


LIGHTS:
- Continuous lights for film and photography.
- Continuous light managed by desk.
- Flash
lights: Bowens, Profoto, Elinchrom... and its accessories.
- knowledge about electric systems (13 / 16 AMP lights, amperage, voltage maximum in sets etc)
- Trigger systems
- WiFi card

DIGITAL TECH:
- IT Mac and Windows
- Tethering: Wi Fi systems, Cable tethered systems
- Capture one
- Camera Raw
- Lightroom

RETOUCHER:

I'm also a published beauty, portrait and fashion retoucher, with 3 years of experience full time. Feel free to contact me if you require this services. My retouching work can be seen in my website.
References as assistant / Career

I'm a bilingual woman who has a degree in Lighting Design, Film & Photography, and Postproduction.
This means I'm able to set up any lighting you may need for your shooting, prepare your cameras and control the tether system.

I always carry my computer and cables to the shootings (MSI GS63VR 6RF, i7, pro graphic card) because you never know when something can fail.

I have a great attention to detail, and have lots of experience working on tight schedules and I'm also good at reading the photographer's needs, which fastens the work on set and location a lot.

My field experience goes from being intern, and then studio manager at Simulacra Studios, in Brixton (London) to do freelance work as assistant and Lighting design for fashion photographers such as Martin Schoeller, Niklas Haze, Kari Sveriss, or Jayden Fa.


I have European passport and I love to travel, so a shooting out of London won't scare me!
Jayden Fa, Photo Assistant, more than 1 year
Kari Sveriss, Photo Assistant, more than 5 jobs
Francois Boutemy, Photo Assistant, more than 1 year
Jasmine De Silva, Photo Assistant, 1-5 jobs
Niklas Haze, Photo Assistant, more than 1 year
Martin Schoeller, Photo Assistant, 1-5 jobs

Portfolio
Quick search:Want to browse all photo assistants in a town at once? Save searching, just click!
Atlanta
,
Austin
,
Baltimore
,
Boston
,
Chicago
,
Columbus
,
Dallas
,
Denver
,
Detroit
,
Hawaii
,
Houston
,
Indianapolis
,
Las Vegas
,
Los Angeles
,
Memphis
,
Miami
,
Minneapolis
,
New Orleans
,
New York City
,
Oklahoma City
,
Orlando
,
Philadelphia
,
Phoenix
,
Portland
,
Puerto Rico
,
Sacramento
,
Salt Lake City
,
San Antonio
,
San Diego
,
San Francisco
,
San josé
,
Seattle
,
Washington