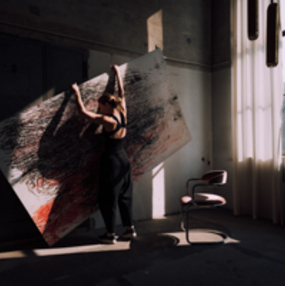 Germany, Berlin
Born in:1987
Assistant since:2016
Driving licence:Car
Personal car:no personal car
Passport:no
Languages:English, Spanish, Portuguese, German
Photo Assistant, Digital Tech
Luis
People, Portrait, Fashion, Beauty, Reportage, Stillife, Food, Transportation, International Exp.
Know How:
Ganz am Anfang meiner Karriere als Assistent habe ich Steffen Schraegle assistiert. Als ich bei ihm gearbeitet habe, habe ich mit Phase One, Alpa, Leica und Canon gearbeitet. Seitdem habe ich mit viele verschiedenen Equipment gearbeitet aber am meistens mit Canon (5DRs und Mark IV) und Nikon (D750, D810, D850).

Meine Haupterfahrung mit Licht ist auf jeden fall mit Profoto. Trotzdem habe ich schon mit Broncolor und Briese gearbeitet.
Ich arbeite am meistens (60%) mit Tages licht aber natürlich auch mit
Blitze (30%) und Dauerlicht (10)

Ich bin fit mit Ps, Lr. und CaptureOne.

Ich arbeite am meistens mit Fotografen die im Ausland arbeiten (z.B. Georg Roske) um mit wem ich Lifestyle/ portrait/ und transportation mache. Die Produktionen sind am meistens große.
Auch oft arbeite ich mit Jochen Arndt, der Stilllife, food und interiors macht.
Ab und zu kommen auch natürlich jobs für beauty, fashion und editorials.

Meine Stärken liegen an Höflichkeit, gute Augen, Ruhig und ein bisschen Perfektionismus machmal.
Postproduction mache ich auch gerne.
References as assistant / Career

Ich habe in Berlin in der Neue Schule für Fotografie studiert.

Danach habe ich angefangen Fotografen zu assistieren.
Zum Beispiel:

Steffen Schraegle
Uwe Duetmann
Ulrich Hartmann
Frauke Fischer
Anna Daki
Georg Roske
Jochen Arndt
Suzana Holtgrave
etc

Für jobs bin ich schon nach:

Lissabon
Bratislava
Krakow
Athenas
Kreta
Turks and Caicos (Caribbeans)
USA
Pisa
Luxemburg
etc
Portfolio
Quick search:Want to browse all photo assistants in a town at once? Save searching, just click!
Atlanta
,
Austin
,
Baltimore
,
Boston
,
Chicago
,
Columbus
,
Dallas
,
Denver
,
Detroit
,
Hawaii
,
Houston
,
Indianapolis
,
Las Vegas
,
Los Angeles
,
Memphis
,
Miami
,
Minneapolis
,
New Orleans
,
New York City
,
Oklahoma City
,
Orlando
,
Philadelphia
,
Phoenix
,
Portland
,
Puerto Rico
,
Sacramento
,
Salt Lake City
,
San Antonio
,
San Diego
,
San Francisco
,
San josé
,
Seattle
,
Washington