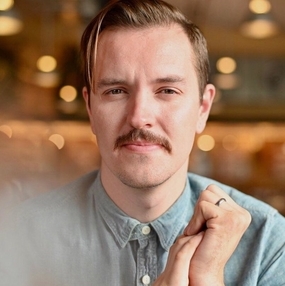 USA, San Diego
Born in:1989
Assistant since:2018
Driving licence:Car
Personal car:personal car available

Passport:yes
Languages:English
Photo Assistant, Digital Tech
Charlie Queen
People, Portrait, Location Scout, Fashion, Beauty, Prod. Assistant, Stillife, Food, Landscape, Transportation
Know How:
I'm an experienced DIT and Photo Assistant who has been working professionally in San Diego for over a year. I'm a very hard worker with experience shooting under some of the best photographers and videographers in the automotive industry and in the San Diego commercial photo scene.

I'm well-versed in car-to-car video and photo production. I can set up and break down any car rig you can imagine and am an experienced camera car driver. I thrive when assisting in capturing beautiful on-the-road footage at every stage of production.

I'm a competent lighting technician who is experienced in the studio and on location for lifestyle, editorial, and product shots. I know my way around various HMI's, Studio Strobes, Kino-Flo systems, Light Panels, Quasar products,
and most light-shaping tools/accessories.

I'm a software and hardware dork. I specialized in tethered shooting with DSLR, Mirrorless, and Medium format digital cameras. I'm highly capable with all industry-standard capture and editing software. I'm meticulous and organized as a DIT and use these skills to take high quality plates/brackets and HDR images as well as commercial product and lifestyle shots. I'm highly experienced with workflows for focus stacking, compositing, time-lapse, slow-motion footage, drone footage, long exposure photography, and more.

I'm a licensed drone owner and operator and am experienced with all industry standard DJI products (ronin, mavic, phantom, inspire). I'm also an experienced camera and jib operator, fluent in the ways of shooting B-Roll, event footage, interviews, live music, and extreme sports.
References as assistant / Career

Studied Radio and Television at Southern Illinois University Carbondale
Studied Entertainment Business at Fullsail University

Director of Digital Marketing for Gatortec, Apple Premier Partner (2015 - 2017)
Creative Writer/Director for Vale Food Company's "Fancy Free" ad campaign (2018)
Creative Director/Writer/Editor for Coolicide Productions (2014-2018)

2nd Photo Assistant - Jeff Ludes | Los Angeles (Subaru)
1st Photo Assistant/Jib Operator - David Burgess | Detroit (Ford/Lincoln)
1st Photo Assistant - Bob Stephens | Los Angeles
1st Photo Assistant - Michael Spengler | San Diego
Digital Technician - Qualcomm Internal Marketing 2019

Portfolio
Quick search:Want to browse all photo assistants in a town at once? Save searching, just click!
Atlanta
,
Austin
,
Baltimore
,
Boston
,
Chicago
,
Columbus
,
Dallas
,
Denver
,
Detroit
,
Hawaii
,
Houston
,
Indianapolis
,
Las Vegas
,
Los Angeles
,
Memphis
,
Miami
,
Minneapolis
,
New Orleans
,
New York City
,
Oklahoma City
,
Orlando
,
Philadelphia
,
Phoenix
,
Portland
,
Puerto Rico
,
Sacramento
,
Salt Lake City
,
San Antonio
,
San Diego
,
San Francisco
,
San josé
,
Seattle
,
Washington